An amazing handheld rotary calculator designed and built by Curt Herzstark. When I was working with a land survey crew in the late 1960's, we used this gadget to calculate lengths, areas, and positions with absurd accuracy. The PocketCalculator
?
had not yet arrived, and the
SlideRule
was only good to a couple of significant digits. The Curta (which resembled a small mechanical pencil sharpener) was good to 10 or 11 significant digits.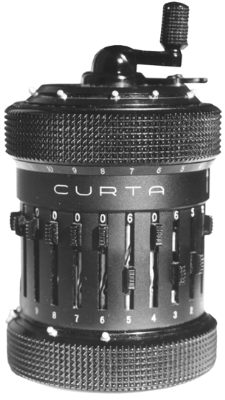 Some references:
GarryHamilton
---
Whoa! That looks so cool! It literally lets you
grind out
a calculation! I bet they are high-priced collectors items these days.
---
Current pricing on eBay starts around $500.00 (US)
---
Here's a cool site:
http://www.vcalc.net/curta_simulator_en.htm
---
The
CurtaCalculator
had a small but high-profile part in
WilliamGibson
's book
PatternRecognition
. It's part of Gibson's themes of authenticity and mass production.
---
---
See also
MathWithoutaCalculator
---
View edit of June 29, 2007 or FindPage with title or text search